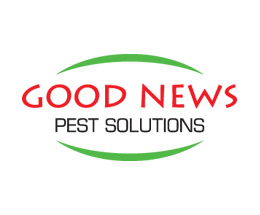 Adam

Burnside

Company : Good News Pest Solutions

Title : Sales Manager

City : North Venice

State : Florida
About
Good News Pest Solutions
Good News Pest Solutions was founded in April of 1989 by John Macy, who at the time, had fifteen years of experience in the pest control industry.
Dean Burnside joined the team as a partner in January 1996, and has helped grow one of the most successful locally owned pest management service companies on the west coast. With the retirement of John Macy in October of 1998, Dean became the sole owner.
In late 2011, the decision was made to rename the company to more accurately reflect our mission, and we became Good News Pest Solutions! We are getting ready to celebrate 30 years of excellence and take great pride in our work.
Our Mission & Core ValuesWe believe our success is a result of our mission. Our Purpose: to represent Jesus Christ to the Gulf Coast by providing peace of mind at a fair price, protecting our environment as the leader in green pest management, and serving others with excellence in all we do.
We are guided by the six Good News Habits, and we strive to live and do business according to Biblical principles. By following the character qualities of Jesus; honesty, integrity, compassion, fairness, and diligence, we can build an organization which provides service at a level that not only satisfies our customers, but truly honors God.
Be assured that you can trust any of our professional, courteous staff to solve virtually any pest problem. We provide a full range of pest control services including household pests, rodents, mosquitoes, fleas, ticks, termites, fire ants, bats, and much more. We also specialize in providing accurate inspections for real estate transactions.
The Leader in Green SolutionsIn the years after buying the business, Dean became increasingly convinced that we should do all we can to prevent harm to this beautiful planet that God created and entrusted to us. We made the decision that we would aggressively seek out industry leading Eco-Superior methods and products that are friendly to the environment, pets, and people and train our certified, professional staff to eliminate all of your pest problems with them.
And since we were the first pest control company in the area to move away from harmful chemicals toward these green solutions, we established ourselves as the area's leader in Green Pest Management. We've used green methods to eliminate spiders, fleas, ticks, termites, silverfish, bed bugs, cockroaches, bees, ants, rats, wildlife, and other pests from homes and businesses on the Gulf Coast of Florida for many years now.
"Several years ago, we changed the name of the company to Good News Pest Solutions because we wanted to accurately reflect our mission: to share God's good news while solving pest problems with green solutions."
Pests can be a threat to your property and potentially your family's health. And "being green" is not just about choosing the solutions we use.
"It's about putting only what's necessary around your property. We fulfill our promise to do what's best for our customers while getting the right results."
The day Dean bought out John Macy, he joined a group called C12. That group of leaders has made a major impact on his life, and through their influence, mentorship, and accountability, Good News Pest has become a premier provider of pest elimination and prevention services that strives to serve our customers with excellence in all we do according to Biblical Principles.Our Commitment to Your PrivacyAt Good News Pest Solutions, you can be assured that we treat your personal information with the utmost respect. Our customer information will not be shared with anyone without your prior consent. We are committed to ensuring you the peace of mind that your business is a privilege for us and will be treated with respect.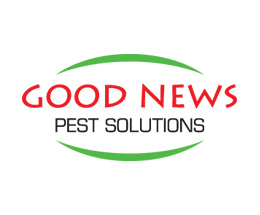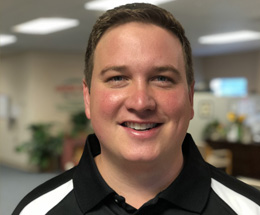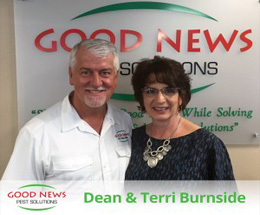 This user account status is Approved